This post may contain affiliate links, which means we may receive a commission if you click a link and purchase something. Check out more about our disclosure policy
here
.
---
I just love WP Engine, so surprise, surprise: I'm a huge fan of WordPress and its flexibility and extendability!
A free blog created at WordPress.com is an excellent place to start your blogging journey, but you'll soon want to graduate to a self-hosted website.
Tip: Once you get to the point where you're comfortable with basic CSS adjustments, you should switch to a self-hosted WordPress site.
---
Shared hosting or budget WordPress hosting will tide you over for a while– about a decade, in my case! But as your needs evolve and your blog grows, you may find that the cheap hosting plan you're on is no longer meeting your needs.
WordPress.com also offers paid upgrades, but I still recommend going with a self-hosted option once you're ready to spend cash-money on your hobby.
Why WP Engine is the Best Choice for Serious Bloggers
Excellent support, available 24/7!
Serious speed gains
Easy to launch, with one-click Development, Staging, and Production environments
Access to Genesis Framework and more than 30 StudioPress themes included FREE
Free SSL certificate via Let's Encrypt
On-demand and automatic daily backups
What about if you're still a beginner?
If you're still a blogging beginner looking for budget-friendly hobby hosting while you wrap your head around WordPress, then WP Engine isn't for you. Not yet.
Trust me, you'll be fine on that budget shared hosting plan, probably for a while! For WordPress beginners and bloggers on a tight budget, I recommend HostGator. When the time comes for you to switch, you'll know.

---
Top three signs you need to switch to managed WordPress hosting
Despite your best optimization efforts, your blog is slow and sluggish. Search engines penalize slow page-loading times, so that sluggish site will cost you in organic traffic.
Spikes of heavy traffic bring down your blog altogether. That awesome feeling you get when you get a lot of traffic thanks to a viral pin or tweet? It'll be replaced by frustration and disappointment if your host can't keep up or throttles you with their low limits.
Resource-heavy plugins and page builders don't run well, or at all. WooCommerce and WP GeoDirectory users, I'm looking at you!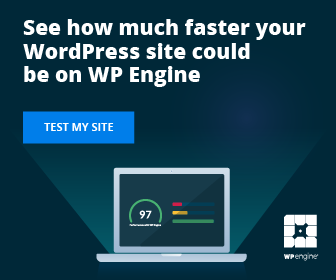 ---
Why I switched to WP Engine
While Hostgator's Business Plan served my needs for years, I recently ran into issues with outdated versions of PHP, server incompatibilities, and limited support. I wanted to switch to a better, faster, and more secure solution for this site and a few other sites I own.
If you're looking to level up your blog experience, I recommend you consider WP Engine. Whether you need your host to handle e-commerce, a community, or simply high traffic, I believe that WP Engine is the top choice for managed WordPress hosting.
I've switched Aspire to Wander to WP Engine, and I'm in the process of migrating Hudson Valley GO. A newer concept travel inspiration site that I'm working on will find its home on WP Engine as well. At my day job, a social media marketing SasS, we rely on WP Engine to run our marketing website, and we have for years.
---
Support when you need it
In my short time with WP Engine, I've had excellent experiences with their customer service team, with super-quick and friendly support via chat and over the phone.
Yes, you'll still need to put in the elbow grease to get your blog running and the design on-brand. But with all the resources you get with WP Engine and the top-notch customer support, you'll be way more confident about the development process— even if you're not a developer!
---
Final Thoughts
I've been blogging on and off since before Xanga was a thing. (I spent an embarrassing amount of my mid-teen years tweaking copied CSS to get just the right look set for my header.) Since the very early aughts, I've seen blogging software come and go (or quietly wither away, not having achieved mass adoption) and witnessed WordPress's meteoric rise to the top. It's an incredible CMS, and there's so much you can do with it!
But it can get unwieldy. The sort of restrictive freedom you get with a shared hosting plan takes your focus away from what your blog needs most: your content! A web host that doesn't meet your needs will make it so that instead of writing fresh new blog posts and coming up with compelling new content, you'll be fiddling with plugins and workarounds all day. Your content deserves more, and you deserve to spend your time creating rather than fiddling.
While I've had my eye on WP Engine for a while, I always put off the switch. My experience confirms that, like most things in life, you get what you pay for when it comes to WordPress hosting. The quality experience you get with WP Engine makes that additional cost well worth it over a budget hosting option. And already being a fan of Genesis Framework for literal years, my only regret is that I didn't switch to WP Engine sooner.
---
So is WP Engine is worth it?
I say, absolutely yes, WP Engine is worth it! Give WP Engine a try, and if you have any questions about signing up and migrating your blog, contact me or leave a comment below! I'm happy to answer your questions, and I'm down to help you decide if WP Engine is (or isn't) the right choice for where you are in your blogging journey right now.
---
Pin this post!
---